DW: You are a co-founder of the #Gambiahasdecided movement. Why did you decide to leave the country at the end of last year?

Salieu Taal: There was a threat for me to be arrested alongside two other members of our movement and another blogger. It was not just a threat, they actually attempted to arrest me. I was lucky enough to get a tip that they were coming. I also saw them in the vicinity of my home. Fortunately I was in a car and I was able to find my way to a friend's house. I alerted my other friend and another founder of #Gambiahasdecided. We managed to sneak into Senegal on December 31st, so we spent our New Year's Eve on the run.

There are reports that some people who wear the t-shirt you are wearing now have been arrested. Can you confirm that?

Yes. Several people have been arrested. According to my last count, up to seven people have been arrested. Yesterday, I got a call from a friend who is on his way to Dakar today because of this t-shirt. This t-shirt is seen a treat in Gambia.

You are a lawyer. President Yahya Jammeh wants the Supreme Court to make a decision about his complaints surrounding the elections. Is their any legal reason for that? If you look at the constitution, doesn't he have a right to complain about things that according to his opinion went wrong during the electoral process?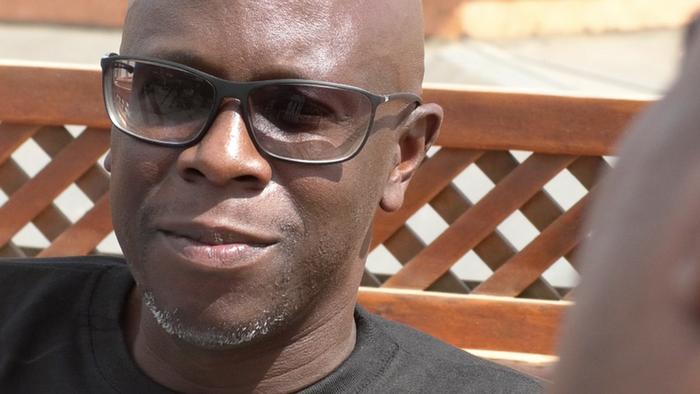 Salieu Taal is one of the founders of the #Gambiahasdecided movement.
President Jammeh is obviously entitled to complain about any alleged wrongdoing during the elections. No one is saying that he is not entitled to complain. We are just saying that he does not have good grounds to complain. And even if he is complaining, the status quo must remain.

The status quo as of now is that the winner of the elections, Adama Barrow, should be formally inaugurated as president of The Gambia. And as it stands, there is no legal process stopping President-elect Adama Barrow from being inaugurated as president of The Gambia, contrary to the statements of ex-President Jammeh.

So there is no legal means anymore for President Jammeh to change the decision or to get the Supreme Court to sit again?

He does not have the power to change the decision. Jammeh is a citizen like any other. He does not have any special standing before this court. He comes to the court through his party as a petitioner. To my knowledge, his application to prevent the inauguration cannot be heard by the chief justice, who has excused himself because this application did not disclose any merit.
It actually purports to ask the chief justice to stop himself and any judge from swearing in Adama Barrow. The chief justice sensibly declined to hear this application because it is a legal nullity to ask a judge to stop himself from doing something.

The heads of state of ECOWAS have met a couple of times to discuss the transition in Gambia. Do you think that talks have failed?

I don't think that talks have failed. I think ECOWAS has done a great job. They continue to exhaust all the many channels. Jammeh has been given any avenue known in diplomacy to accept the will of the Gambian people and he has blatantly refused to accept the will of the Gambian people. The only step that can be taken now would be to ensure that the use of force is put into play. As a Gambian, it's very painful for me because we have families in Gambia and the use of force is something that has consequences one cannot control.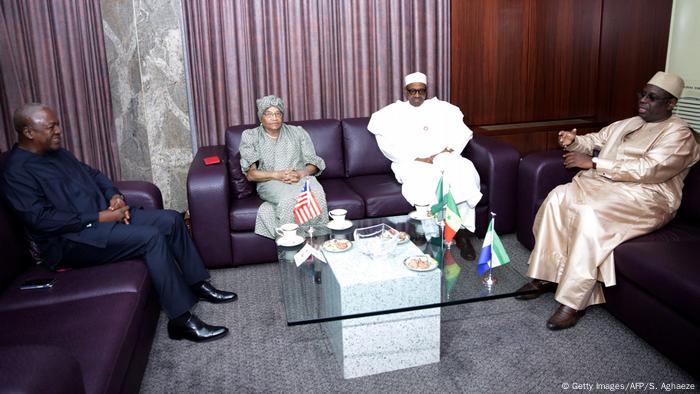 Regional leaders want President Jammeh to step down
But as I say, any drop of blood in The Gambia is the entirely the responsibility of President Jammeh. He cannot accept the fact that the people have voted for someone else. He has tried to use the court, it has failed. The court will be heard in May. He has to step aside and allow President-elect Barrow to be inaugurated and then he can continue his case in May. But instead he is going on TV talking about constitution and rights and yet he is saying that there won't be any inauguration. That is an unlawful action on his part.

After the elections, members of the opposition and of your movement were quite outspoken about the possibility of prosecuting President Jammeh after the transition of power. Do you think this might have led President Jammeh to reverse his decision [to accept the election results].

Point of correction: Our group has never spoken about the prosecution of Yammeh. That's nothing we have discussed. Our role is very simple. We want to restore democracy in The Gambia. In terms of prosecutions, that is up to the coalition and the victims. Yes, there have been different opinions as to why President Jammeh has changed its mind. But that is a matter of opinion. Our focus is very clear: We want to ensure that the voice of the Gambian people is heard and respected.

The inauguration ceremony is still scheduled for Thursday. What will happen in the next days?

This is the sixty-million-dollar question. But I still believe that there will be an inauguration on Thursday. I think on January 19, Adama Barrow will be the president of The Gambia.

What about your own future, will you return to The Gambia very soon?

Absolutely. I will be going back to Gambia very very soon.

Salieu Taal is one of the founders of the #Gambiahasdecided movement. The Gambian lawyer fled to neighboring Senegal at the end of last year after receiving threats. He spoke to DW's Adrian Kriesch.