On Monday (21.03.2016) more than four months after the start of the trial of 17 young activists, final pleas were due to be entered before a court in Luanda. The accused are being tried for plotting to overthrow President José Eduardo dos Santos. The hearing was already adjourned once at the request of the defense. A verdict is expected on March 28.
13 of the 17 activists were detained on June 20, 2015, while discussing Gene Sharp's 1993 book "From Dictatorship to Democracy" about non-violent resistance against repressive regimes. Two other young men were arrested later, while two women were indicted, but remained at liberty.
While in detention, the young men were subjected to abuse, including violence. During their nine months in custody one of them tried to commit suicide.
Court ignores the law
What was supposed to be a quick trial has dragged on for months. Angolan journalist Rafael Marques, who has won several international prizes for his human rights activism, told DW that the trial was clearly politically motivated: "It seems that the Angolan regime urgently needs to find an enemy to distract citizens from society's main problems." He was referring to a rapidly deteriorating economy in oil-dependent Angola, hit hard by the steep decline in commodity prices on world markets.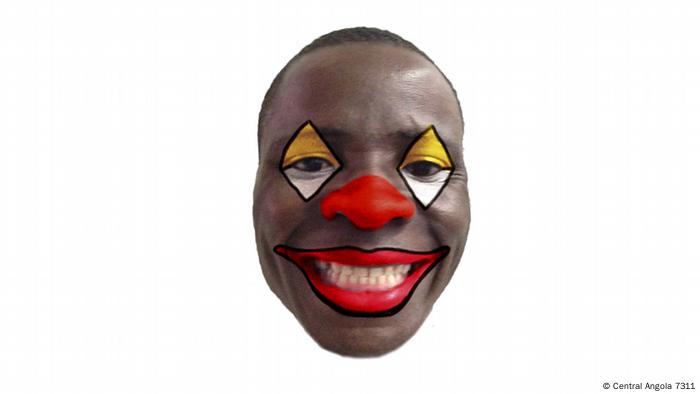 Activists in Angola posted the faces of the defendants in clown make-up to protest what they consider to be a farcical trial
Meanwhile the defendants, who have all denied the charges, languished in prison even though Angolan law allows for suspects to remand in custody for only three months. But the law was simply ignored by the tribunal. In protest, eight activists went on a hunger strike. One of them was well-known rapper and poet Luaty Beirao, who also holds both Portuguese and Angolan citizenship. Beirao refused food for a total of 36 days, one day for every year President dos Santos has been in power, he explained. This drew the attention of the world and probably helped to secure the release of the defendants into house arrest in mid-December. Rights group Amnesty International collected over 38,000 signatures in protest against the detention. There were also demonstrations on the streets of European capitals.
Repression is growing
The release of the activists was perceived as a victory in a country where the regime of veteran President dos Santos,never the most open and democratic, has been growing increasingly repressive. Teresa Pina of the Portugal chapter of Amnesty International told DW that the case against the 17 is just another instance of "a long history of punishing dissent in Angola, and it has worsened in recent months."
Protest rallies staged by critics and opposition in the capital, Luanda, and in other big cities have been brutally dispersed by the police. There have also been several arbitrary arrests and journalists were among those detained. Nito Alves, one of the defendants in the activists' trial,was sent to prison for six months, forallegedlysaying the proceedings were a farce. Alves, who was detained once before in 2013 for two months - when he was still a minor - for wearing a t-shirt calling for the President's removal, is not alone in considering the trial to be a parody of justice.
No happy ending likely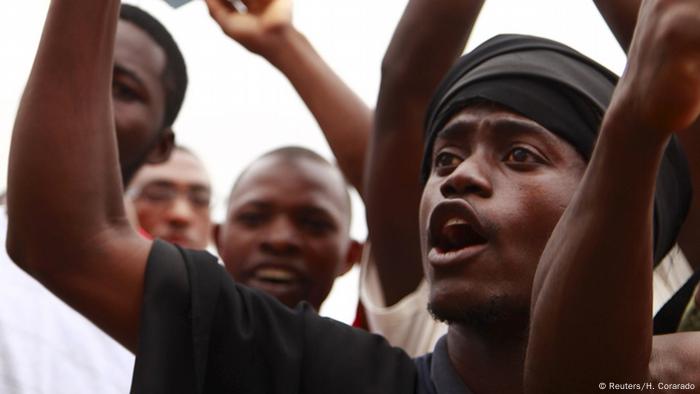 Anti-govenment protesters outside the court where the trial is being held.
Analysts say that the government is in a quandary over this trial, since handing down sentences would further tarnish its reputation. But acquittals could be seen as a vitory for the extra-parliamentary opposition. However one of the indicted activists, journalist Domingos da Cruz told DW: "Considering that Angola doesn't really have a judicial system, I believe we are going to be sentenced. I expect nothing else."
No international observers have been allowed to attend the trial, which has been beset with many problems. Not the least of them being that the prosecution was unable to produce all 70 witnesses it had announced who would conclusively prove that the young people were plotting a rebellion. These people appear on a list for an "alternative government" posted on Facebook by Angolan lawyer Albano Pedro. He he said it was meant as a joke. Some of the defendants are also on the list. Officials wanted to hear those on the list in court, but most did not turn up. This then led to several adjournments.
There are reports that some of the youths now under house arrest are struggling with grave financial and health problems, since they are unable to work and have to rely on others to survive. Odair Fernandes, a member of the Revolutionary Movement group to which the activists belong, told DW that two defendants, whose families live far away from Luanda, are suffering from hunger. One of the two women on trial, Laurinda Gouveia, said: "I'm anxious for this story to end."