An amateur football club relegated from the Germany's fourth-tier Regionalliga Südwest has expressed anger over a plan to include a Chinese under-20 national team in one of Germany's five regional fourth-tier divisions next season.
FK Pirmasens, an amateur club based in Rhineland-Palatinate, finished 14th in the south-western regional league, making them the last of six clubs to be relegated. Now, plans have emerged to stock up the 19-team division with a Chinese under-20 XI as part of an ongoing cooperation agreement between the German and Chinese football associations.
Speaking to DW, the league's chief executive officer Felix Wiedemann said all 19 Regionalliga clubs were "excited" at the prospect of playing games against the Chinese selection but Christoph Radtke, chairman of relegated Pirmasens, sees it differently.
'Pure capitalism'
"I have no words any more, the whole club is in disbelief," he told German weekly "Die Zeit." "The phrase 'regional league' contains the word 'region.' We are a club from the southwest who are economically sound but have been relegated. Six teams have gone down and now the DFB (German football association) is bringing the Chinese national team in. We have to accept it but it is pure capitalism."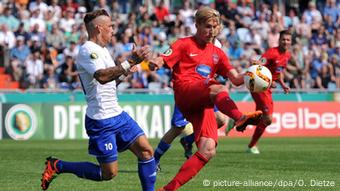 FK Pirmasens (here in white) were relegated from the south-western regional league
FK Pirmasens, who just missed out on promotion to the Bundesliga in 1975 and who are one of the few German teams to use the more traditional German spelling of "Fussball-Klub" instead of the usual "Fussball-Club" in their name, had appealed to the league to keep the division at an even number by allowing them to remain.
"But instead of letting us stay in the league, they've chosen - and there's no other way of putting this - money from China," Radtke said. "It's a horror story."
Despite finishing 14th with 42 points, Pirmasens were relegated because, due to the regional leagues' controversial playoff system, league champions Elversberg were not promoted to the national third division, meaning an extra team had to go down.
"Obviously it's bitter for us," continued Radkte. "We are amateurs; our players also have jobs. Nobody here earns a living from football."
Money is tight in the fourth tier, where amateur outfits mix with professional clubs relegated from the third division, and Radkte believes the carrot of a 15,000-euro ($16,800) payment to Regionalliga Südwest clubs from the Chinese FA has convinced them to support the idea.
"I know all about the situations of teams in our league," he explained. "I can well imagine that 15,000 euros are a nice little bonus for the clubs. Plus more spectators and income from catering - it's worth it for the clubs."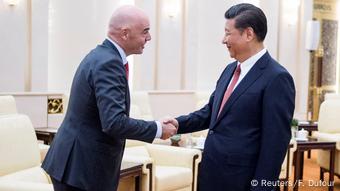 Chinese President Xi Jinping, pictured here with FIFA President Gianni Infantino, wants to boost football in his country.
Right from the very top
"But nevertheless, it's just not on. The Regionalliga is still the fourth-highest football league in Germany on the brink of professional football. Such decisions have absolutely no place in our sport. It's all about money. And it unfortunately it comes right from the top."
Indeed, following discussions with experts familiar with the deal, DW learned that the plan is very much in keeping with the vision of Chinese President Xi Jinping's government.
"President XI wants the Chinese domestic sporting economy to be worth 830 billion dollars by 2025," said Simon Chadwick, Professor of Sports Enterprise at the University of Salford, an expert on Chinese football business. "And football is to be the focal point."
DW has also learned that the Chinese are highly interested in football-based analytics, making Germany's southwest particularly attractive.
Criticism mounts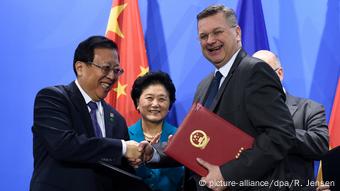 Reinhard Grindel, president of the DFB, meets Chinese deputy Prime Minister Liu Yandong in Berlin.
And contrary to league chairman Wiedemann's claim that the plan has the support of all 19 Regionalliga Südwest clubs, criticism has emerged from those still in the league. Markus Kompp, CEO of SV Waldhof Mannheim, who finished second, told DPA on Friday: "SV Waldhof Mannheim has not given its approval. As it stands, the necessary details have not been comprehensively laid out."
Criticism was also forthcoming from clubs in other regional leagues which make up the fourth tier, including former Bundesliga sides Rot-Weiss Essen and Rot-Weiss Oberhausen, who compete in the Regionalliga West.
On their Facebook page, Essen addressed an open letter to the DFB, sarcastically requesting admittance to the Bundesliga for for 2018-19 season, suggesting they too would only play friendly matches.
Ruhr neighbors Oberhausen announced some new tongue-in-cheek changes for their home matches, including replacing their traditional sausages and beer with various Chinese dishes, replacing all club mascots with dragons and requesting visitors to leave their car engines running to increase air pollution.