For the first time, the celebrations to mark the end of the Second World War on 8 May will take place virtually due to the COVID-19 pandemic. May 8 marks the liberation from National Socialism and stands for a new beginning in the history of Germany and Europe. To commemorate the event, DW will build a 'musical bridge' between Russia and Germany and broadcast classical concerts from empty halls in Berlin, Moscow and St. Petersburg.
Renowned musicians will perform in the Moscow State Philharmonic, the Mariinsky Theatre in St. Petersburg and the Konzerthaus am Gendarmenmarkt in Berlin for the program Music Bridge Russia - Germany. Deutsche Welle's German and English language TV programmes and Youtube channel (DW Classical Music) will broadcast a compilation of the performances. The program includes works by Pyotr Ilyich Tchaikovsky, Dmitri Shostakovich, Igor Stravinsky, Modest Petrovich Mussorgsky, Johann Sebastian Bach, Ludwig van Beethoven and Wolfgang Amadeus Mozart.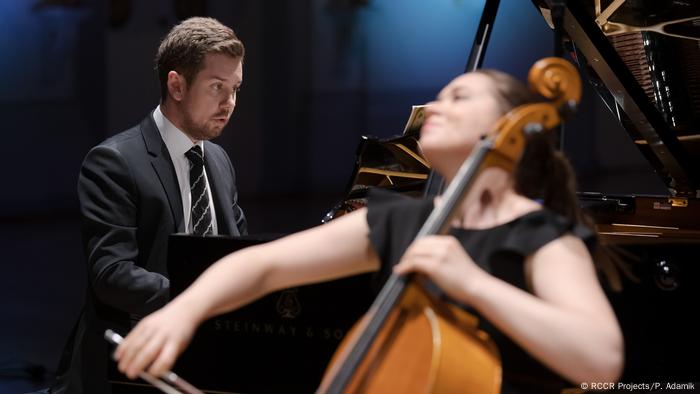 Music Bridge between Germany and Russia to commemorate the end of the Second World War, celebrated on May 8
The classical music event is an initiative of the Russian-German Music Academy. It brings together young artists from Russia and Germany in symphony orchestras and chamber music ensembles.
In addition to pianists Martin Helmchen and Denis Matsuev, young artists who have participated in projects of the Russian-German Music Academy will also perform.
The event is under the patronage of the Russian Foreign Minister Sergey Lavrov and the Federal Foreign Minister Heiko Maas. The two politicians will open the music program with a brief welcome address.
DW Head of Culture Rolf Rische: "We are very pleased to be able to provide high-quality concerts of this kind in times when cultural life is severely restricted worldwide."
The shows will be broadcast on May 8, 2020 on the DW Deutsch and DW English TV channels with the titles "8. Mai 2020: Musikbrücke Russland – Deutschland" and "May 8, 2020: Building a Bridge of Harmony Between Russia and Germany" respectively. The "Music Bridge" can also be accessed via the DW Classical Music Youtube channel (youtube.com/dwclassicalmusic) and on the websites dw.com/kultur und dw.com/culture.
Broadcast schedule, DW English (Duration: 42'30")
Friday May 8: 19:15 UTC / 21:15 CEST
Saturday, May 9: 02:15 UTC / 04:15 CEST
Saturday, May 9: 08:15 UTC / 10:15 CEST
Saturday, May 9: 15:15 UTC / 17:15 CEST