French prosecutors said they had begun the investigation because of the suspect's statements to police. He said he wanted to attack a soldier and had been in contact with a member of the so-called "Islamic State" (IS) group who had encouraged him to act.
Read more: France launches terror probe into former soldier planning IS attack
Just before midnight Saturday, the French national born in Mauritania had pushed past a security guard at the bottom of the Eiffel Tower in the center of Paris and approached a soldier. He was carrying a blade and shouting "Allahu akhbar" or "God is great" in Arabic. Quickly surrounded by soldiers at the site he surrendered without resistance. No one was injured and no shots were fired.
Security forces, deployed as part of the ongoing Sentinel operation launched following previous terror attacks, evacuated the tower as a precaution around 00:30, some 15 minutes before its normal closing time.
The tower had been lit in the colors of French soccer team PSG at the time as a welcome to Brazilian player Neymar who had just joined the club in a record transfer deal from Barcelona.
The monument opened normally on Sunday.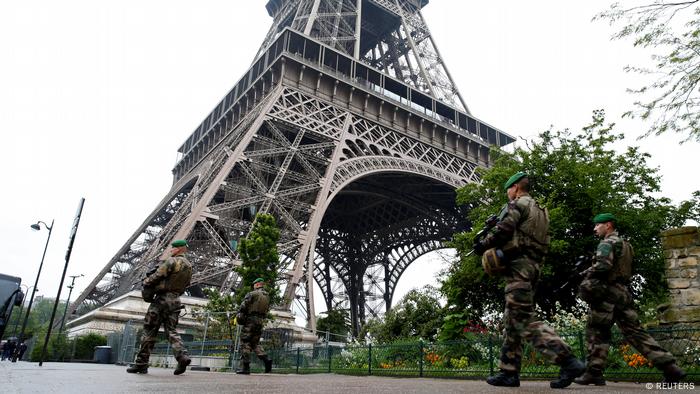 French troops protect national monuments as part of operation Sentinel
The suspect, identified by French media as Mamaye D., was born in the west African country of Mauritania in 1998 and has a history of mental troubles. He had been in a psychiatric hospital for several months and his stay had been renewed for six more months on July 27, according to French press reports. He was granted weekend leave from August 4-6.
A member of his family told Le Parisien newspaper "For a little while, Mamaye had benefited from permission to leave the Persan hospital to come and see us at weekends. When he did he stayed in the living room. On Saturday, I didn't notice anything special about his behavior."
Convicted for defending terrorism
The police initially classified the incident as a common crime due to the suspect's mental issues. However, anti-terror prosecutors took over the investigation after his statements about contacting the IS group.
According to a source close to the investigation and press reports, the suspect had threatened SNCF railway personnel in 2015 and was convicted in December last year on charges of defending acts of terrorism and for making death threats. He was given a four-month suspended sentence.
Other attacks
The latest attack on the Eiffel Tower comes after several attacks on famous Parisian landmarks earlier in the year. An Egyptian man armed used a machete to attack a patrol of soldiers at the Louvre in February, injuring one, before he was shot by the security forces. Another extremist killed a policeman on the Champs-Elysees in April, and a 40-year-old Algerian attacked a policeman with a hammer outside Notre Dame cathedral in June.
On July 14 last year, more than 80 people were killed when a man drove a lorry into a crowd celebrating the French National Bastille Day in the southern city of Nice.
jm/se (AP, Reuters, dpa, AFP)