California's fabled giant sequoia tree with a drive-thru tunnel carved into its base has been toppled as storms walloped the US west coast.
Known as the Pioneer Cabin tree and estimated to be some 2,000 years old, the towering sequoia was known for having a tunnel cut through its trunk that was big enough for a car.
The Calaveras Big Trees Association reported on Facebook that the tree had been felled, saying the storm was "just too much for it."
"It was majestic," Jim Allday, a volunteer at Calaveras Big Trees State Park, told The Associated Press. "Now it's basically a pile of rubble."
Regular visitors also voiced their sadness at seeing the tree topple over. "I've traveled to 70 countries," John Ripper, a 55-year-old printer in Northville, Michigan (pictured below), told AP. "But that particular tree and being able to walk underneath it and touch it was quite a memorable moment and something I won't soon forget."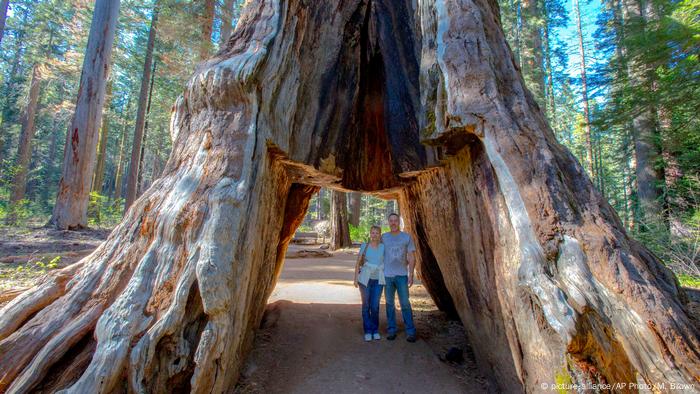 The Pioneer Cabin tree was a favorite landmark for John and Lesley Ripper
"In the blink of an eye, it's gone," Ripper added. "There's this giant tree everyone remembers, and it's going to be laying there in plain sight. The dead giant."
The hole was carved into the tree in the 1880s to allow tourists with horses and buggies to pass through. Later, cars were also allowed to drive through, although it recent decades the tunnel was limited to pedestrians only.
Giant sequoias are linked to the redwood tree, which are considered the tallest tree species in the world and only grow in the Sierra Nevada mountain range.
Storms pound West Coast
The states of California and Nevada experienced some of the heaviest rain in over a decade on the weekend, with the hardest hit areas seeing some 10 to 15 inches (25-38 cm) of rain and snow.
Early on Monday morning, flooding of the Russian River in Sonoma County, just north of San Francisco, saw rescue boats and helicopters rush in to evacuate more than 3,000 locals.
Meanwhile, volunteer emergency workers in Nevada evacuated some 1,300 people in a Reno neighborhood.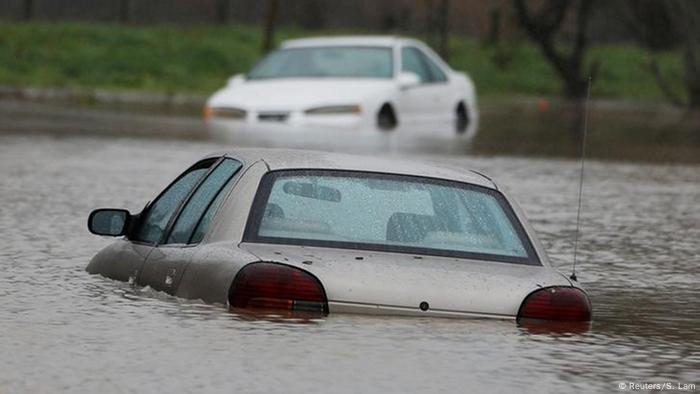 Wild storms have left parts of northern California submerged under water
In northern California, hundreds of households were left without power and thousands were forced to evacuate as the wild weather toppled trees and raised rivers over their banks. Many of the trees in the area are particularly weak and at risk of toppling after some six years of drought.
The storm is part of an "atmospheric river" weather system, known as the "pineapple express," which draws precipitation from the Pacific Ocean as far out west as Hawaii.
The fierce weather conditions subsided slightly later on Monday, marking a crucial window for rescuers to launch rafts and search for people cut off by the rising water levels.
However, forecasters warned that another strong storm is bearing down on the region, with more rain and snow expected to hit on Tuesday.
Schools, roads and ski areas all remained closed in the Sierra Nevada on Monday, and will likely stay closed for much the week.
dm/cmk (AP, Reuters)