Venezuela's economic and political crisis continued on Thursday, as the military called on everybody in the country to participate in exercises meant to counter a supposed United States invasion.
Embattled President Nicolas Maduro called the military exercises earlier this week after expanding a state of emergency in response to opposition calls for a referendum for him to step down.
"Venezuela is threatened," Venezuelan Defense Minister Vladimir Padrino Lopez said on state television on Thursday. "This is the first time we are carrying out an exercise of this nature in the country. In terms of national reach, it's going to be in every strategic region."
Earlier in the week, Maduro said he had called the military exercises scheduled for Friday and Saturday to ready the oil-rich country against an impending US invasion. The emergency powers give the military and Socialist party militia sweeping powers to impose public order and distribute food.
The Supreme Court ruled on Thursday that the emergency powers were constitutional "given the extraordinary social, economic, political, natural and ecological circumstances that are gravely affecting the national economy."
The opposition, which controls the legislature, has rejected the decree and pressed on with calls for the country's electoral body to recognize a petition that gained enough signatures to call a referendum against Maduro. Polls show some 70 percent of Venezuelans want Maduro to step down.
Opposition leader Henrique Capriles has called on the army turn against Maduro and for the public to defy the state of emergency. National Assembly speaker Henry Ramos Allup said on Wednesday the government needed to come to the table to reach a peaceful end of the crisis.
"We don't want a bloodbath or a coup d'etat," he said.
The dual economic and political crisis has reached such a boiling point that the US intelligence community last week assessed Venezuela could face massive social upheaval and revolt as even the most basic of goods run out.
Meanwhile, political stalemate has drawn in international mediators to diffuse what former Spanish prime minister Jose Luis Rodriguez Zapatero called "a long, hard and difficult path."
Zapatero is leading a team of mediators including the former presidents of Panama and the Dominican Republic, Martin Torrijos and Leonel Fernandez.
They met with Capriles on Thursday after holding talks with Maduro.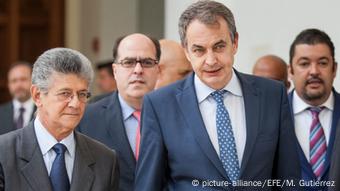 Jose Luis Rodriguez Zapatero (R) is mediating in Caracus.
The Organization of American States (OAS) is also being drawn in.
The Venezuelan National Assembly on Thursday asked the regional body to act "before it is too late."
In a letter to OAS Secretary General Luis Almagro, the opposition-controlled legislature urged him to intervene given "the process of dismantling democratic institutions and to prevent the humanitarian crisis from worsening in health and food as well as exponentially increasing the risk of violence."
cw/rc (AFP, dpa)