The Ugandan parliament voted on Wednesday to approve the new Excise Duty (Amendment) Bill, as part of an overhaul of the excise system taking effect next financial year, starting this July.
The new law also imposes a new tax of one percent on mobile money transactions — the move that has raised most opposition as a majority of Ugandans who bank tend to do so online.
Finance Minister David Bahati said the aim of the legislation was to raise revenue for public services. Uganda's national debt has trebled since 2015 to over 50 percent of GDP.
Users of so-called "over the top" (OTT) services, which publish content bypassing traditional distributors, will be charged 200 shillings ($0.05, €0.04) a day, parliamentary spokesman Chris Obore said.
OTT messaging encompasses instant messaging services or online chat provided by third parties. Facebook-owned mobile application WhatsApp is one of the main providers, with others including Viber, Skype and Twitter.
Problems of implementation
The new law does not say how the tax would be applied and collected in practice.
Reports suggest the tax would be levied daily by mobile phone operators on each SIM card used to access any of the targeted social media platforms. Most Ugandans buy data in small bundles of 500-1,000 shillings and it is not clear how authorities will be able to identify people accessing social media sites.
About 40 percent of Uganda's 40 million people use the internet, according to data from the regulating body, the Uganda Communications Commission.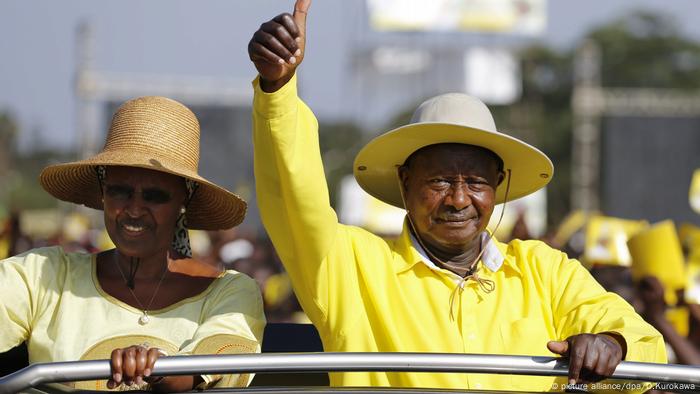 With wife Janet Museveni (L), Uganda's President Yoweri Museveni (R) in Kampala in 2016
Attack on freedom of speech
President Yoweri Museveni called on the finance ministry in March to introduce the tax as a way to deal with the consequences of online "gossip."
"It (tax) is a new tool of stifling free expression and citizen organizing that has been beyond the control of the state," Nicholas Opiyo, a Kampala-based lawyer, told the French news agency AFP. "It's intended to curtail the ever increasing central role of social media in political organizing," he said.
Museveni, who has been president since 1986 has been widely accused of rigging elections and stifling opposition.
In the last presidential election, in 2016, authorities blocked access to Facebook, Twitter and WhatsApp, arguing the platforms would be used by the opposition to mobilize protests.
jbh/rc (Reuters, AFP)