More than 10,000 people took part in protests across Romania on Sunday in an attempt to stop the government from passing new legislation they say will weaken the powers of the anti-graft prosecutor.
Demonstrators blew plastic horns and shouted "Justice, not corruption!" as they rallied through the capital, Bucharest, and dozens of other cities. Others marched toward the parliament building chanting, "We don't want to be a nation of thieves!"
Participants posted photos to social media during the rallies. A photo by Sabina Ciofu, a policy adviser at the European Parliament, showed thousands of people marching along one Bucharest street.

The new legislation is seen by opponents of the ruling Social Democrats as rolling back years of progress in tackling graft in the former communist country.
Solidifying power
Under the proposals, Romania's justice minister would have the power to hire and fire the country's top prosecutors, something only the president can do at the moment.
The anti-corruption prosecutor's office (DNA) would have its wings clipped and be prevented from investigating magistrates.
The new law would also allow a person with a criminal conviction to be elected president.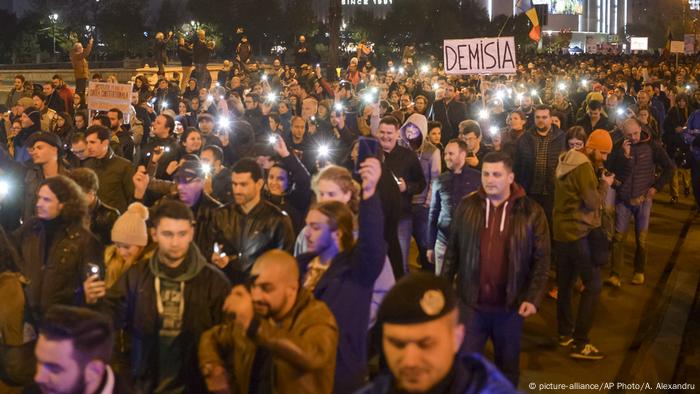 Some estimates put the number of protesters in several Romanian cities at 20,000
Read more: Romanian tabloids incite panic over refugees
Sunday's demonstrations echoed the massive anti-corruption protests at the beginning of the year after the Romanian government moved to decriminalize official misconduct.
More than two weeks of daily rallies — the biggest since the fall of communism in the 1990s — forced the government to scrap its plans.
The European Commission has since warned Romania that its law change could undermine anti-corruption efforts.
Read more: Tudose clinches cabinet reshuffle amid anti-corruption drive
Romania joined the EU in 2007 and in recent years has been enjoying high growth rates, but both Brussels and the International Monetary Fund have pressed the government to do more to tackle graft.
The government has said it aims to get parliamentary approval for the judicial overhaul by the end of this parliamentary session. President Klaus Iohannis, who has criticized the draft, would need to sign off on the new rules.
mm/cmk (AP, AFP, Reuters)