Lufthansa's ticket chief Jens Bischof was quoted in the "Süddeutsche Zeitung" newspaper saying that passengers would only pay for what they used, unlike the all-round service that the airline has offered since the 1950s.
Economy-class flights would be offered in three categories from October 1: Flex, Classic and Light, which would comprise just a seat and hand luggage.
The various options, spurred by low-cost rivals, would apply initially to Lufthansa's domestic and medium-haul flights.
"A third of all passengers in Europe and Germany travel only with hand-luggage," Bischof said. "Why should these customers still pay a standard tariff?"
"In our new concept the customer will only pay for the service ordered," he added. But basics such as free snacks and flight miles will be retained, as will Business Class.
Long-haul flights
The new system would also apply to Lufthansa's foreign subsidiaries Austrian and Swiss. It remains unclear whether long-haul flights to Asia and America will also offer the new system.
Luggage charges would start at 15 euros, if the passenger handed it over at check-in, or at triple that price if found to be excessive just before boarding.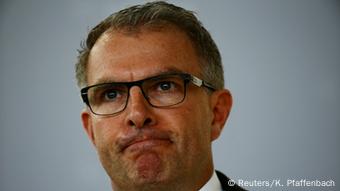 Under pressure - Lufthansa chief Carsten Spohr
The Süddeutsche said Lufthansa would formally present its model on Monday, after planning the changes over the past year-and-a-half.
Lufthansa chief Carsten Spohr, who became a central figure after the crash of a flight of another subsidiary, Germanwings, in southern France in March, had previously pushed for efficiencies to head off airlines such as EasyJet, Ryanair and Middle East competitors.
Labor compromise imminent?
The shakeup follows Lufthansa's meager earnings in 2014 and a tentative deal to avoid further strikes, reached last Friday with the pilot's trade union Cockpit. Both sides are to conduct a joint market analysis to develop a new salary system.
The union wants guarantees that all Lufthansa pilots will no longer be allocated to the low cost subsidiary Eurowings in a salaries' packet said to be worth 400 million euros ($439 million).
In exchange, Lufthansa wants to lift the pilots' normal retirement age, currently at 55. Currently, a company pension tides them over until they reach Germany's statutory retirement age between 65 and 67.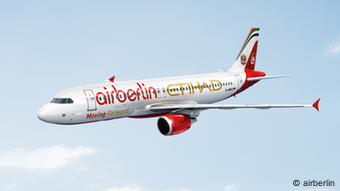 Air Berlin has the backing of Etihad
Using seats to capacity
The Süddeutsche said the ticket pricing plan marked an about-turn for Lufthansa, which in Germany remains market leader ahead of Air Berlin, which has the backing of Arab Gulf investors.
Lufthansa pricing executive Jörg Hennemann told the paper that the proposed ticket pricing system was aimed at ensuring that aircraft seating was consistently "used to capacity."
On average in 2014, Lufthansa flights recorded nearly 80 percent capacity. Worldwide, Lufthansa has 119,000 employees. Last year the airline had a turnover of 30 billion euros but earned a profit of only 55 million euros.
ipj/bk (dpa, AFP, Reuters)