German news magazine "Der Spiegel" has reported that the German Football Association (DFB) offered disgraced FIFA official Jack Warner a package worth millions of euros in a bid to secure his crucial vote for the 2006 FIFA World Cup.
The magazine reports about a draft contract apparently sent to Warner, but never signed.
Warner was president of the North American, Central American and Caribbean Football Confederation (CONCACAF) at the time. He resigned from FIFA, already under a cloud, in 2011, before being indicted by US investigators in May, along with 14 others, under charges of racketeering, bribery and money laundering. In September, almost as a formality, he was banned from football for life.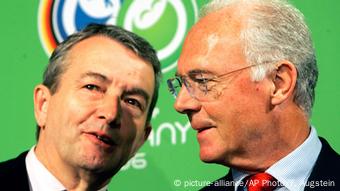 Beckenbauer and Niersbach deny all allegations
A 'summer fairytale' too good to be true?
According to the report, the DFB offered incentives including 1,000 World Cup tickets of the most expensive category, which would have "earned him hundreds of thousands of dollars at resale."
In addition, an unnamed "contact" would receive a total of $240,000 (221,000 euros) over four years as part of a draft deal which foresaw millions of euros worth of merchandising - including Adidas-sponsored footballs, bags and shoes - being sent to the Caribbean.
Bundesliga giants Bayern Munich are also stated to be allegedly involved, with Franz Beckenbauer - the club's president at the time - agreeing to a contract which would have obliged Bayern to train for three weeks every year with a CONCACAF team.
A further part of the deal would see the DFB take charge of the printing of tickets for up to eight qualification matches, as well as the production of 30,000 Trinidad and Tobago flags.
Although the magazine reports that the deal was never implemented, it also said that the DFB had been handed a bill for the production of Trinidad and Tobago flags and a separate one for the printing of tickets for a qualification game between Trinidad and Panama. Both bills date to 2000, the year the hosting rights of the 2006 World Cup were awarded to Germany.
"Der Spiegel" had reported in October that
Germany paid 6.7 million euros
to FIFA; saying the funds did not seem to be spent on their nominal purpose - a cultural program.
Former DFB President Wolfgang Niersbach, who resigned from his post last month amid the speculation over the alleged payment made to FIFA, and Beckenbauer have both denied any wrong-doing in connection with winning the right to host the tournament.
Weekly news magazine Der Spiegel hits German newsstands each Saturday, with advance releases of its lead material typically published on Fridays.