The high point came at the very end. Europe's pulse was racing when Beethoven's "Ode to Joy" rang out in Frankfurt's Goethe Square during the emotional finale of the pro-European protest march. The participating europhiles held hands and silently formed a human chain with almost awestruck devotion. It's the symbolic ritual at the end of every one of these rallies: hold on tight for Europe.
The event on Sunday was organized by the pro-European grassroots initiative "Pulse of Europe." Protesters had gathered on previous Sundays as well, but not in such numbers. Different estimates put the attendance between 1,600 and 2,000 people.
"Pulse of Europe" has been inviting people to the Goethe Square on Sundays at 2 p.m. for four weeks now. Sister marches are organized in all of Germany and in Amsterdam, Paris is supposed to follow suit at the end of February. The organizers, a group of Germans from Frankfurt and the surrounding areas, wanted to act in the face of growing populism and radicalization in Europe.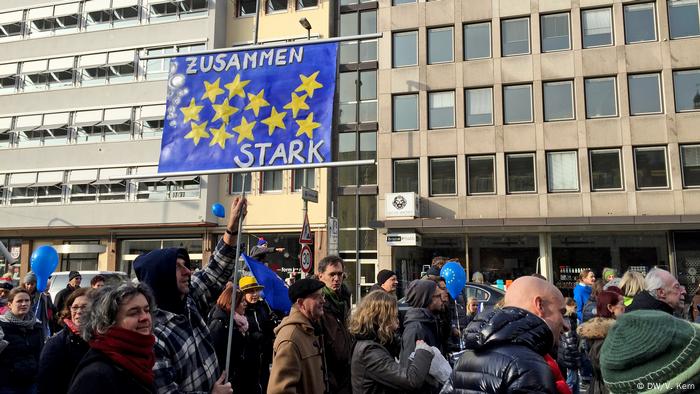 'Strong together' - Sunday's 'Pulse of Europe' rally in Frankfurt
They stress, however, that they're not protesting against something, but rather in support of a peacefully united Europe. In their mission statement, the group proclaims it's their goal to "wake up the silent majority" in favor of European ideals. They stress that now is the time to act:
"Europe's survival is at stake."
'Blijf bij ons'
One of the founders is Daniel Röder. He told DW that the Brexit vote seemed "like a bad dream" to him. The law scholar and the other founders of "Pulse of Europe" want to prevent that right-wing populists gain the upper hand again in the upcoming elections in the Netherlands on March 15 and in France on April 23, with the decisive run-off set for May 7. They believe that victories by euroskeptics Geert Wilders or Marine Le Pen would spell the beginning of the end for Europe.
Röder says he's not a 'professional protester'
Röder said that one of the main messages of Sunday's rally was directed at the Netherlands: "Blijf bij ons," or "Stay with us." Pulse of Europe organizers want the Dutch to stay in the EU and vote for Wilders' rivals on March 15. Until then, they hope to get as many Europeans as possible out on the streets every Sunday to show support for the EU.
A win by Geert Wilders' right-wing "Party for Freedom" (PVV) is not likely, despite the fact that his party is liable to be the strongest single force in parliament once again. Recent polls put the PVV around 10 percent clear of the competition, but only at around 30 percent of the vote - not enough to rule without coalition allies.
Still, the polls did miscalculate plenty of 2016 vote results, if not by such a large margin.
"Trump was the straw that broke the camel's back for me," Röder said. "I realized that the impossible was possible."
He decided to fight for Europe and convinced his friends to take to the streets. That's when Pulse of Europe was born.
Love letter to Europe
In motivating Europeans to stand up for unity, Trump's election could also have a positive effect. At least that's what participants in the Pulse of Europe marches hope. Anna Leszczynska for example came to the most recent rally in Frankfurt with a "Make Europe Great Again" sign - a play on Trump's election slogan. The psychotherapist is originally from Poland and told DW she was shocked by the acts of her home country's right-wing government.
"I didn't think that an established democracy could be wiped out this quickly," Leszczynska said. "That's why Europe needs to be strengthened."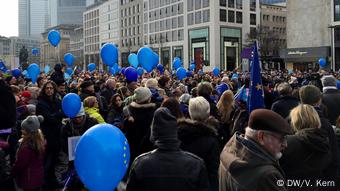 The most recent march in Frankfurt had up to 2,000 participants
This is what more and more people believe. On Tuesday, German news magazine "Spiegel Online" called on readers to submit declarations of love for Valentine's Day. One reader actually sent in a love letter to the EU and to "Pulse of Europe."
"I want to declare maybe not my passionate love but my deep affection for Europe," Carsten Schiefner wrote. "Europe's suitors of both genders can meet her and each other … at pulseofeurope.eu."
No more inertia
Founder Daniel Röder sees the grassroots movement as a wake-up call. He conceded that Germans might have remained comfortable and inactive for too long and stressed that this had to change.
"If the idea of Europe isn't held up by its citizens, then it won't work," Röder said.
He hopes that many more people will join the Sunday rallies in the weeks to come and get Europe's pulse racing again.