The Bundesliga is set to earn a record sum of 4.64 billion euros over four years. The ground-breaking television rights deal will come into affect from the 2017/18 season and is valid until the 2020/21 campaign.
Between 2013/14 and 2016/17, the Bundesliga earned 2.51 billion euros in television rights, the new deal increases the sum paid to the DFL, the German Football League, by 85 per cent.
The announcement made in a press conference on Thursday, led by DFL chief executive Christian Seifert, revealed that Friday night matches - 43 Bundesliga matches per season - will be shown on Eurosport from 2017/18.
Sky Germany will remain the leading broadcaster of the Bundesliga in Germany, with 572 live matches to be aired each season. A German court recently ruled that it was not fair for Sky to retain all live rights to Bundesliga broadcasting, arguing that at least some matches should be available elsewhere.
Public access television stations in Germany also have extensive rights to broadcast Bundesliga highlights, plus one live match per season. All Saturday second division matches will be aired on Sky.
League CEO Seifert said: "An 85 per cent growth in the German market is very good. I sense that isn't normal. We are very satisfied with the result."
Chasing the market leaders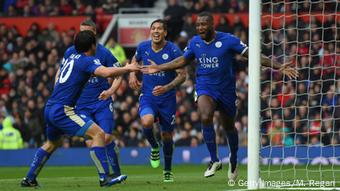 English Premier League has become the market leaders in TV sports broadcasting
Germany's top flight has played catch up in recent years with the English Premier League, which has set the ceiling for sport broadcasting rights. Last year, the Premier League confirmed a new domestic TV contract worth around 6.8 billion euros (7.8 billion dollars) over three seasons.
The Premier League's international rights - worth around 3.2 billion euros - are more than eight times that of the Bundesliga. England's top flight will renegotiate with international clients for period 2016-19 and that deal is expected to bring the total value of the EPL's broadcasting rights to over 11 billion euros.
In December, Spain's La Liga confirmed a new deal worth 2.65 billion euros (3.25 billion dollars), with a recent change in law meaning a fairer distribution of wealth. A team like Champions League finalists Atletico Madrid are expected to see a rise of more than 100 million euros in TV income.