For all of those who have asked: "Is he a man or is he a machine?" let it be said that the best swimmer of all time is made of flesh and blood.
Michael Phelps breathes heavily. Struggling for air, he sits down on the starting block. He gestures wth his hand to show that he is completely exhausted. While the spectators applaud him (and his team), the man who swam the anchor leg for the US victory needs to catch his breath.
Speaking at the press conference afterwards, Phelps concedes that at the ripe old age of 31, competing in two races in one day was more difficult than it used to be, and that this had been one of the most strenuous evenings in his career.
Phelps has just won gold medal number 21 - in the 4x200-meter relay - with the American men finishing with a three-second advantage over their closest followers. This is less than half an hour after he had stood on the podium with his 20th gold medal around his neck. That's the way things are in swimming, it's just one race after another. Phelps knows all about this, having competed in as many as 24 races in the space of two days during his youth. He has spent his life in the water and he is reaching a fresh climax here in Rio. The gold medal in the 4x200-meter relay is Phelps' third of these Games.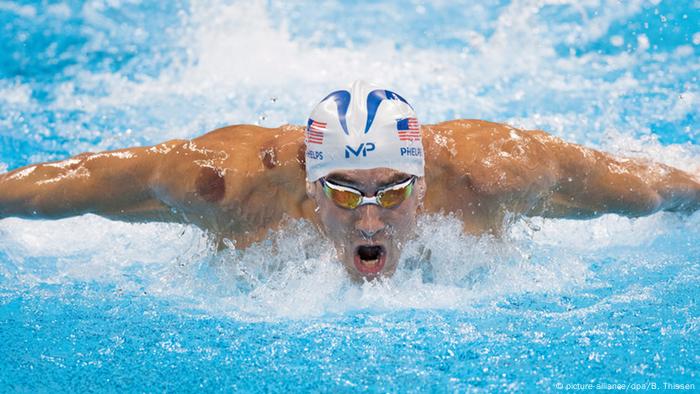 A wingspan of 2.04 meters is part of what makes Phelps such a great swimmer
A big mistake
The spectators in the Aquatics Stadium rise to their feet to give him a standing ovation as Phelps takes a victory lap around the arena. Phelps savors the moment, spreading his arms out to display his 2.04-meter wingspan in celebration. Then he climbs a set of stairs up to the stands where members of his family are standing and waiting for him. He kisses his fiancé Nicole, his mother Debbie and his son Boomer Robert, who is named after his coach. His mother is in tears and Phelps' fiancé is full of emotion.
Four years ago, Michael Phelps didn't know what to do with himself and entered a dark period of his life. He was convicted of drunk driving and was handed a suspended prison sentence. This he later described as "a big mistake." For days he scarcely left his own home and a friend advised him to seek help. This he did, and during his therapy he discovered painting - which helped him gain a new perspective on alcohol, his feelings of emptiness and himself. Eventually he approached his old coach about returning to the pool in a bid to make it to Rio.
Water not Ritalin
Robert Bowman was skeptical at first, but he soon realized that Phelps was a changed man.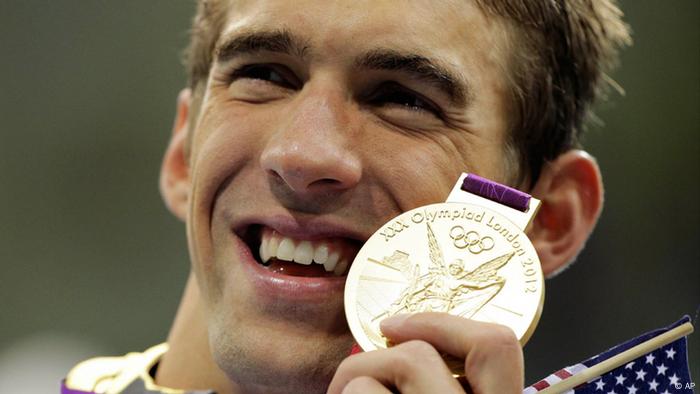 After winning gold in London Phelps fell into a number of bad habits
"He's more relaxed about being in his own skin. He has realized for the first time that he is more than just a good swimmer," Bowman said.
Nobody in swimming knows Phelps better than Bowman. He was the one who discovered Phelps as a child. Phelps suffered from an attention-deficit disorder and had to take Ritalin on a daily basis. One day his sisters, Hilary and Whitney took him to swim at the North Baltimore Aquatic Club. This decision turned out to be a revelation, because on the days he swam he didn't need any drugs to control his medical condition. He simply burned off his excess energy in the pool. Bob Bowman spotted his talent and promised Debbie that nothing would stop him.
An 'insane' number of medals
"I really wanted to win this race. I didn't care about the time, just the victory. Mission accomplished," Phelps said afterwards.
"The last 10 meters were not fun. My gosh, I thought I was standing still."
Outside observers, though, could see that he won by a comfortable margin. In the stands his closest friends celebrated, even making him laugh during the sounds of the national anthem.
The new Phelps is cool, relaxed and free of great pressure.
"I've won so many medals. It's just insane," says Phelps, as if he had just realized this for the first time. "I am very grateful for everything," he adds, before walking off in his flip-flops.