Merkel told German MPs on Wednesday that the country's current economic and social situation was as good as ever.
There were more jobs, falling unemployment, increased purchasing power, and her government had presided over the largest pension increase in 23 years, she said.
"We have used the good revenues to strengthen social security," the Chancellor told parliament, referring to strong tax revenues from a buoyant economy.
Her speech came three days after her Christian Democrats (CDU) suffered an embarrassing defeat to the anti-immigrant Alternative for Germany (AfD) party in her home state of Mecklenburg-West Pomerania.
Core values unchanged
Merkel tried to reassure the public, many of whom are concerned about whether the country can accommodate so many migrants over a short timeframe, saying that "Germany would remain Germany, and so would all that is dear to it."
Vowing to step up efforts repatriate failed asylum seekers, she insisted the overall "situation is much better now than a year ago, but there remains a lot to do."
For those migrants with good prospects of staying, Merkel said her government had sped up integration measures, including education and accommodation.
But she denied that the sheer number of migrants would lead to a cut in welfare for Germans.
AfD singled out
While accepting that the AfD was a "challenge," Merkel warned other parties against inflammatory language used by the right-wing populists, who she accused of misleading the public.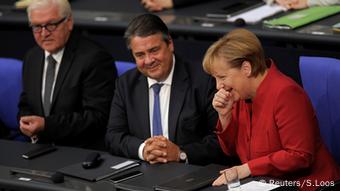 Merkel with her foreign and economy ministers
She said if all MPs used the same tactics as the AfD, then "only those who rely on slogans and seemingly easy answers," would win. She said it was important to win back the people's trust by keeping to the truth.
"When we join in with this behavior where facts are ignored or brushed aside, then a responsible and constructive debate is no longer possible," she told parliament.
Turning to international issues, Merkel described the ongoing civil war in Syria as "atrocious" and urged the US and Russia to press for a ceasefire agreement.
She also defended her handling of German-Turkish relations and said a European Union deal with Ankara to curb the flow of migrants was necessary and could serve as a model for agreements with other countries.
mm/jil (AFP, dpa, Reuters)