A Congolese military tribunal imposed life sentences on the militia fighters, including their leader, provincial lawmaker Frederic Batumike, describing the rapes and several murders as crimes against humanity.
Between 2013 and 2016, the militia kidnapped and raped at least 37 girls in the village of Kavumu, about 25 kilometers (15 miles) north of Bukavu city in the Democratic Republic of Congo's South Kivu province.
Prosecutors said Batumike, whose immunity was waived to stand trial, had hired a spiritual advisor who told fighters that raping very young children would give them mystical protection.
Compensation awarded
The mobile court, concluding the trial which began on November 9, awarded $5,000 (4250 euros) to each victim of sexual violence and $15,000 to families of those killed for criticizing the militia's actions.
"Following years of silence, motivated by fear and denial, their suffering has been brought to light and recognized publicly," said Charles Cubaka, spokesman for lawyers representing the victims.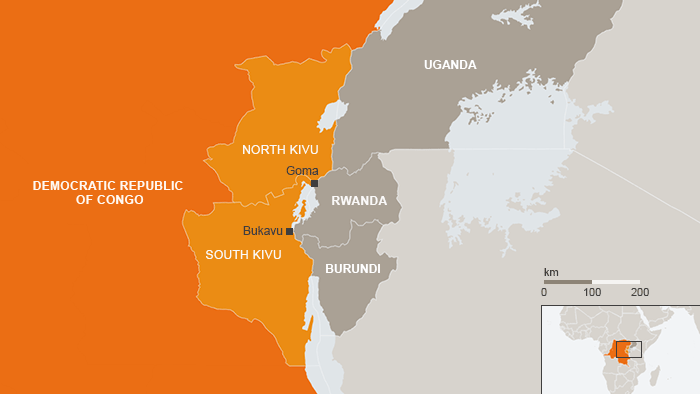 The attacks took place in South Kivu province between 2013 and 2016
Not invincible
"For too long those who commit rape in the Congo have thought they were invincible," said Physicians For Human Rights on Wednesday.
"This trial demonstrated that justice can be served in the Congo, when an investigation is effectively carried out and evidence is methodically collected, even when the accused wield significant power and are highly organized," said the group's spokeswoman Karen Naimer.
It was now the responsibility of Congolese authorities to use similar measures to "rigorously pursue other cases of sexual violence" across the vast Central African nation, she said.
Many of the sexual assaults happened at night, according to Congolese surgeon Denis Mukwege, who had sounded the alarm.
Militia members, including Batumike, were also convicted of membership in a rebel movement and illegal weapons possession.
Violence pervasive
Regional wars in eastern Congo between 1996 and 2003 claimed millions of lives, mostly from hunger and disease.
Dozens of armed groups continue to prey on local populations and fight for control of the region's rich natural resources.
Several high-level militia and army commanders have been prosecuted in recent years, but experts say sexual violence remains pervasive.
ipj/se (AFP, Reuters, AP)