A Soyuz TMA-19M space capsule carrying the three astronauts landed on the Kazakh steppe, southeast of the city of Zhezkazgan, just after 0900 UTC on Saturday.
Tim Peake of the European Space Agency (ESA), NASA's Timothy Kopra, and Yuri Malenchenko of the Russian agency Roscosmos, spent 186 days living on the International Space Station (ISS). As part of their mission there, the astronauts tested new technologies and conducted hundreds of experiments in biology, biotechnology, physical science and Earth science.
Entering the atmosphere was perhaps the hairiest part of the three-hour return journey. The descent module has to withstand temperatures of 1600 degrees Celsius (2912 degrees Fahrenheit) created by friction with the atmosphere. The release of parachutes and retrorockets then work to limit the impact of the landing.
"After landing, the crew deploy a communication antenna for the rescue teams to pinpoint them, but search and rescue teams are often already onsite to retrieve the space voyagers," the ESA website said. The rescue teams are there to help the crew disembark the capsule, before taking them to a tent for health checks.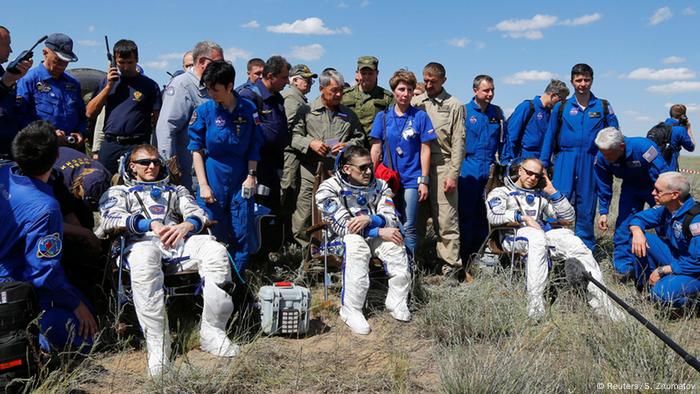 ISS crew members Tim Peake, Yuri Malenchenko of Russia and Timothy Kopra of NASA rest after landing near Zhezkazgan
400 kilometers above Earth
The ISS space laboratory, which showcases cooperation between Russia and the United States, has been orbiting Earth since 1998. It usually has six crew members on board, while the Soyuz capsules used to ferry astronauts from Earth and back can carry three people.
NASA's Jeff Williams, and Russians Alexey Ovchinin and Oleg Skripochka are currently manning the station until the arrival of three new crew members in July.
The ISS circles the Earth once every 90 minutes, traveling at an altitude of about 400 kilometers (250 miles) and a speed of about 28,000 kilometers (17,500 miles) per hour.
Peake, a 43-year-old former army major, was the first Briton to represent the European Space Agency aboard the ISS. In April, he completed the London Marathon in space with the help of a running machine, setting a Guinness World Record for the "fastest marathon in orbit."
nm/jlw (AFP, AP, dpa)