It's hard to get Michael O'Flaherty to calm down. He's a passionate man with a gift for words and the speaking manner of a professor. And on a sunny day in February, his outlook on the health of human rights in Europe is not as dire as one would suppose.
"Fundamental rights are in casualty. They're always in need of attention, they're always under threat," he says. He ticks off a list of ailments: the migrant crisis, growing intolerance, governmental surveillance. But then he adds, "Its health is very strong in the sense of the commitment for human and fundamental rights."
O'Flaherty aims to be the doctor who can prescribe the right advice to policymakers so they can get the European Union healthy again.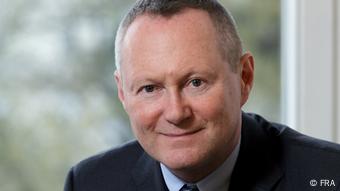 O'Flaherty has devoted his life to human rights
The Irish-born professor of human rights is the new director of the Fundamental Rights Agency, a small EU institution that provides the bloc with independent, evidence-based data and recommendations on fundamental rights they need to make fact-based laws. It's the agency few have ever heard of, something O'Flaherty, 56, hopes to change.
"One of the challenges of human rights law is that it sets a very lofty ideal at a certain level of generality but it doesn't drill it down so that policymakers can know how to use it. And a huge part of our work is around unpacking it," he says.
But rather than writing wonky reports that no one reads, the former Catholic priest who once represented his country on the UN Human Rights Committee pledges to make his agency's work have immediate relevance and impact.
Highlighting current dramas
We must be able to speak to the human rights dramas of the moment in Europe and we've got to do so in a way that is impactful. What is impact? Impact is changing the experience on the ground for human beings. Hold us accountable by those measures," he says.
This is where O'Flaherty, a balding, energetic but quiet-spoken man, gets excited. This is a man who has devoted his life to human rights. He established human rights field missions in Bosnia and Sierra Leone. He was one of two rapporteurs who developed principles on sexual orientation and gender identity. He's also been a chief commissioner of the Northern Ireland Human Rights Commission and, most recently, director of the Irish Center for Human Rights at the National University of Ireland in Galway.
"If we can't go home at night and say somehow, some human being's life is improved through our work, then we should shut up shop and go home," he says.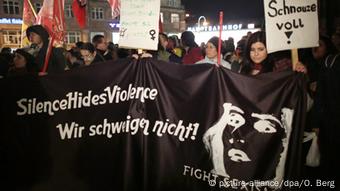 The FRA has responded to misconceptions in the wake of tthe Cologne NYE attacks on women
Currently FRA, based in Vienna, has turned the focus to the migrant crisis. After alleged assaults on women on New Year's Eve in Cologne and elsewhere in Germany, German anti-migrant protestors carried "Rapefugee" signs, claiming newcomers were bringing a culture of sexual assault to Europe.
The agency issued a press release in mid-January reminding policymakers of a 2013 FRA study that found, among other things, that 33 percent of those surveyed said they experienced physical and or sexual violence and that most of that violence came from people who the victim knew, not strangers.
"We were able to demonstrate that Europe has a persistent, long-standing, very serious history of violence against women that is entirely indigenous. Don't blame new arrivals for an age-old European problem," he says.
Unaccompanied minors in trouble
The agency's 75 staff members have also begun issuing monthly reports on the experience of migrants in nine EU countries with the goal of spotting gaps in human rights law implementation and coming up with solutions to solve the deficits. The EU had been collecting data on the numbers of people crossing borders, but there were no reports on how they were faring during their travels or after.
The first report comes on the heels of a trip O'Flaherty made to Lesbos to witness first hand the conditions and experiences of migrants. The researchers found troubling conditions for unaccompanied minors. The EU could not account for some 10,000 kids; there were delays in appointing guardians for children, so they often stayed for days or weeks in processing centers in Austria, Slovenia and Sweden. Children had been spotted alone and crying in Croatia. Bulgaria was excluding children seeking asylum from school.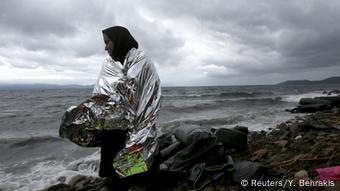 Human rights work is an uphill battle
One way the EU could help the children immediately would be to appoint guardians in Greece who would ensure safe passage to a destination country.
"We have to untangle guardianship procedures across countries, and all of this is new for everybody," O'Flaherty says.
Another area for improvement, he says, is appreciation of migrants' skill sets. When they are registered, migrants also should be relating the skills they possess. "We are missing an opportunity if we don't know the demographics," he says.
Core test of European values
Ultimately, the ex-Galway professor says, the migrant crisis is a core test of European values. "If we fail it, we are diminished as the European Union, and I have confidence that we have the law, the practice and the values in place to deliver success."
His goal is to develop policy recommendations and - especially important for the man who once advised the UN on the implementation of the Dayton Peace Agreements - ensure the EU's policies are also applied.
When asked about the lack of a unified response by Europe so far, O'Flaherty delivers the smile of someone who has spent more than 20 years working in human rights. Public discourse focuses only on a few dramatic problems and neglects what has been achieved, he says.
"Look at Europe more widely," he urges. Then you will see that the health of human rights isn't as sickly as one would suppose. As proof, he points to the people on the island of Lesbos who work on a daily basis with those washing up on their shores daily.
"They have allowed their island to be overturned because they recognize the compelling humanitarian need to receive these people. They are the people who give me hope."