Corruption, violence, drug dealing, human trafficking, arms trading and even murder have all been committed by violent motorcycle gangs. In Germany's most populous state, North Rhine-Westphalia, about a dozen criminal cases are currently being processed. Motorcycle gangs have around 6,000 members across the country, the most prominent being the Hells Angels.
Members are known by skull-and-crossbones badges on their jackets and above all by their motorcycles, which they consider a symbol of freedom. Police officials in North Rhine-Westphalia say motorcycle gang members are extremely prone to violence, especially when it comes to fights with rival groups. The gangs defend their power by all means necessary.

In a recent stand-off between Hells Angels and the gang known as the Bandidos in Cologne, hundreds of police officers were called into the city center to prevent the worst from happening. Both gangs originated in the US, but have built up a powerful presence in Germany and other countries over the years.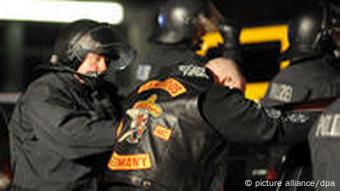 Police raids were carried out against motorcycle gangs last week
In the Ruhr region, a 49-year-old member of the biker union Bandidos was found shot dead near his motorcycle. Essen's public prosecutor is investigating. Murders committed against motorcycle gang members have also occurred in Münster, in 2007, and in Duisberg, in 2009.
Turf wars
The Bandidos are the ruling gang in the Ruhr region – something the Hells Angels want to contest. The struggle concerns financial interests in the drugs trade and the operation of brothels.
Motorcycle gangs are also fighting one another in northern Germany, where the Hells Angels have a strong advantage. A 47-year-old Turkish man apparently came into conflict with the gang over dealing drugs. He has been missing for two years. For days now, police have been investigating a warehouse close to Kiel. The foundations of the storage facility are being excavated piece by piece. Police suspect that the Hells Angels have encased the body of the Turkish man in the concrete foundations of the building.
Lack of testimony
Authorities have tried to overcome motorcycle gangs with organized raids. The fear is that innocent civilians could become victims of clashes between the groups. Some 1,200 officers carried out raids last week in brothels, pubs and apartments across Kiel, Hannover and Hamburg. Police were searching for evidence of criminal activity.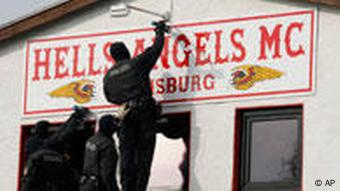 A police raid on the "Hells Angels Schleswig-Holstein" club house
Authorities in Berlin were stunned to discover that all of the evidence they expected to find had been removed. Suspected Hells Angels wore white t-shirts as opposed to their usual jackets. Someone had given them a timely tip-off. It could well have come from sympathizers within the police force itself.
The main problem is that many members of motorcycle gangs - mostly men aged 40 to 50 with a good education - have regular jobs. They live in inconspicuous small houses with neat gardens. They are well connected and have a strict, self-imposed code of honor.

"Because of that, we don't receive any testimony," said Frank Schleiden of North Rhine-Westphalia's state police bureau. "Aggrieved gang members never betray the perpetrators. The gangs shut themselves off completely and sort things out between themselves."
Another difficulty in persecuting motorcycle gang members is inherent to German law, which says it is not enough for individual members to be found guilty of a crime.

"We need to prove that the crimes are typical for the entire gang," Schleiden said.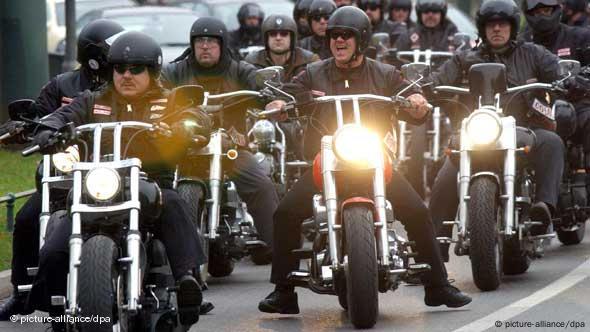 Hells Angels are usually well-connected and follow a strict code
Nationwide ban
In North Rhine-Westphalia, there was enough evidence to introduce such a ban at the beginning of April. Two branches of the Hell Angels - "'Hell Angels MC Cologne" and "Red Devils MC Cologne" - were disbanded. Authorities also confiscated their assets.
Following a similar ban on a gang in Kiel and Neumünster, officials said, "when symbols of power, such as the jackets, can no longer be worn, the power of the gang also appears to be broken."
Berlin's Senator of the Interior, Frank Henkel, wants to introduce a complete ban on motorcycle gangs. He managed to ban the most influential gang in the capital city. But even after the recent failed raids in Berlin, Henkel is confident.
"It's the right step in the right direction," he said, "so that we can combat organized crime in Germany more effectively."
Author: Wolfgang Dick / hw
Editor: Shant Shahrigian