German Defense Minister Ursula von der Leyen and the Turkish-Islamic Union for Religious Affairs, known by its German acronym DITIB, are this year's big winners of the Big Brother Award, the privacy and digital rights organization Digitalcourage announced in Bielefeld on Friday.
The so-called "negative" award is handed out each year to an individual, group or organization "who act in a prominent and sustained way to invade people's privacy or leak (personal) data to third parties," according to the official website.
Von der Leyen "won" the award for the "massive digital armament" of Bundeswehr troops thanks to the new Cyber and Information Space Command based in Bonn. The youngest branch of Germany's military was announced in April 2016 by von der Leyen and is in responsible for cyber, IT, military intelligence, geo-information and communications matters.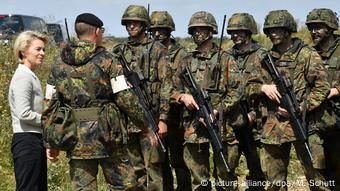 The Bundeswehr's new cyber unit, based in Bonn, drew criticism from Digitalcourage
The department is tasked with conducting military cyberwarfare operations and developing IT systems, as well as creating tools to ward of hacking attacks.
Islamic group accused of spying
The Cologne-based DTIB meanwhile was "honored" for its spying on followers of the Muslim cleric Fethullah Gulen and critics of Turkish President Recep Tayyip Erdogan. It was revealed last December that some imams belonging to DTIB shared information about members of their mosques in the wake of the failed coup attempt in July 2016.
In response to news of its award, DTIB threatened Digitalcourage with a lawsuit, claiming defamation. The Big Brother Awards have been awarded in Germany since 2000. Companies that have won the award in the past include Google and Deutsche Telekom.
Rarely do the "winners" make an appearance at the awards ceremony.
blc/sms (EPD, dpa)