Doctor Kristina Hänel handed over the petition with more than 150,000 signatures to members of Germany's Bundestag on Tuesday, urging them to scrap paragraph 219a of the criminal code.
The clause states that anyone who publicly "offers, announces [or] advertises" abortion services is to be punished with up to two years in jail or must pay a fine. Hänel argues the law essentially prevents "factual, medically correct information being posted on the internet," and should therefore be repealed. The law effectively prevents doctors from publicly saying whether or not they perform abortions, only allowing them to discuss the process in private consultations. Practitioners and hospitals in Germany — many of which are run by Catholic organizations — can refuse to provide abortions.
Read more: Pro-life and pro-choice in Germany
Last month, a court found the 61-year-old from the western town of Giessen guilty of "advertising" abortions among a list of services on her clinic's website and ordered her to pay a €6,000 ($7,045) fine. Hänel, who has performed abortions for 30 years, has vowed to appeal the decision.
"I don't feel guilty, I don't do anything bad," she told German news agency dpa. "I help the women."
Read more: German doctor fined for illegally 'advertising' abortions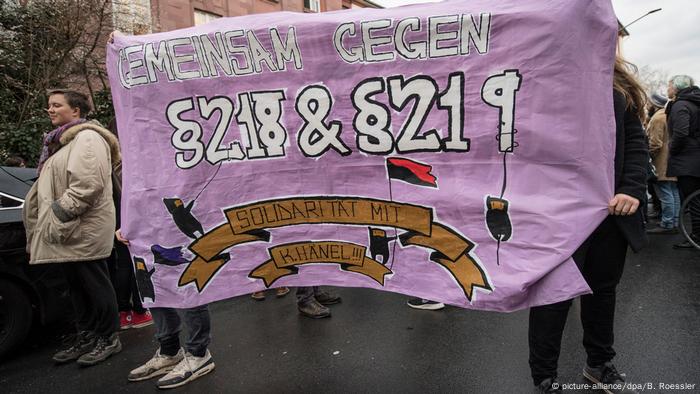 Supporters of Doctor Kristina Hänel call for changes to paragraphs 218 and 219 of the country's abortion law
Growing calls for change
The case has sparked a heated debate in Germany between abortion opponents and Hänel's supporters in recent months. A number of politicians have also weighed in.
On a federal level, the Social Democrats (SPD), the Greens, the Left party and the pro-business Free Democrats (FDP) have all said they would be in favor of change.
On Tuesday, the Berlin state senate — dominated by the SPD, Greens and the Left — voted to lobby the federal upper house, or Bundesrat, to do away with paragraph 219a. The states of Bremen, Hamburg and Brandenburg also back the initiative.
Read more: German doctor re-ignites debate after banning abortions in clinic
"It's time clause 219a was stricken from the criminal code," Berlin Justice Senator Dirk Behrendt, of the Greens, said. "This relic from the Nazi era criminalizes the medical profession and makes it difficult for women to access information."
The Greens said they were seeking talks with the other parties and hoped they could come to an agreement to change the legislation early next year.
Clause 'protects unborn life'
Chancellor Angela Merkel's conservative Christian Democratic Union (CDU) and its Bavarian-based sister party, the Christian Social Union (CSU), have rejected making changes to the abortion law.
Thomas Rachel, the chairman of a national working group for protestant members of the Christian Democrats, on Tuesday said the demands from the other parties were "ethically highly problematic."
He said the current law was the result of laborious negotiation and compromise, and altering it would be "disastrous." He noted that abortion was an extremely complex issue, and the advertising ban was part of an effort to protect unborn life.
The health spokeswoman for the CDU/CSU parliamentary group, Elisabeth Winkelmeier-Becker, said that while deleting clause 219a was out of the question, one potential change could make a clearer distinction "between advertising and information."
Doctor Hänel's petition will be referred to a petitions committee, which can then launch an initiative in Parliament.
nm/msh (KNA, epd, AFP, dpa)