Former Salvadoran President Francisco Flores died Saturday, just days after falling into a coma, following a massive stroke. He was 56.
Flores, who was the president of El Salvador from 1999 to 2004, was under house arrest, facing embezzlement charges. He was rushed to a hospital last weekend after suffering a cerebral hemorrhage that paralyzed the right side of his body.
"We mourn the death of President Francisco Flores, and express solidarity with his family at this time," read a message issued from the Twitter account of his rightist National Republican Alliance (ARENA) party.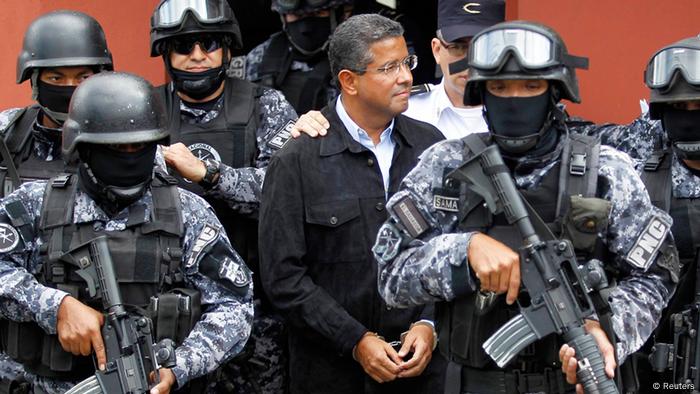 Late president Francisco Flores is guarded by an elite police unit when leaving his house in 2014
Pocketing funds for victims
Flores was accused of illegally enriching himself by diverting more than $15 million (13.9 million euros) that had been donated by Taiwan to help earthquake victims in 2001 from its intended recipients.
A court said $10 million went to Flores' ARENA party, which propelled Flores to power, while the remaining $5 million was pocketed by Flores. The former president vigorously denied the charges then turned himself in to police in 2014, in an effort to clear his name.
Doctors said last week that the stroke had left Flores with irreversible brain damage.
Current Salvadoran President Salvador Sanchez also offered his condolences on his official Twitter account.
Flores had suffered from thrombosis, the clotting of blood in veins. He was hospitalized for a flare-up in October 2014, and again on December 22, 2015, for an internal hemorrhage.
Loyda Robles, one of the lawyers against Flores, said last week that his death would end the criminal prosecution, but that the civil litigation would continue.
bik/sms (AP, AFP)