FIFA President Infantino tried to defend his image after reports emerged saying that he had signed a Champions League broadcasting contract in 2006 with a marketing agency called "Cross Trading" - apparently a letterbox company registered offshore.
That company was also indirectly implicated in the 2015 FIFA scandal, being a subsidiary of a group owned by Argentine marketing executives Hugo and Mariano Jinkis, who were indicted last year by American federal prosecutors investigating bribery and money laundering in international soccer. The father and son team are currently fighting extradition from Argentina to the United States.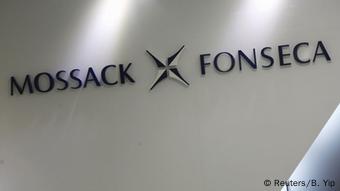 The data leak of Mossack Fonseca clients, dubbed the "Panama Papers," has caused a stir in sports and politics alike
A contract reportedly co-signed by Infantino as UEFA's legal director at the time sealed a three-year deal for TV rights in Ecuador for the UEFA Champions League to Cross Trading well below market value. The transaction was leaked from the database of the Panama-based law firm at the heart of the leak, Mossack Fonseca.
"I am dismayed and will not accept that my integrity is being doubted by certain areas of the media, especially given that UEFA has already disclosed in detail all facts regarding these contracts," Infantino, 46, said in a statement published by FIFA.
Infantino was only elected to lead FIFA in late February, succeeding the suspended long-term head of world soccer, Sepp Blatter.
Another stain on FIFA's image
According to the reports, Cross Trading paid $111,000 (83,000 euros at the time) for the broadcasting rights and sold them for a $200,000 (150,000 euros at the time) profit to the Teleamazonas channel. There was, however, no suggestion that bribes or kickbacks were paid at any stage of the deals. The transactions, however, still raised the question why UEFA sold its TV rights below value.
"The rights were awarded to Teleamazonas/Cross Trading because they made the highest offer on the market," UEFA said in a separate statement.
Infantino and UEFA separately said they have not have not been contacted by law enforcement authorities about their past dealings with the Jinkis family's agency.
The so-called Panama Papers, a massive leak of 11.5 million documents about secret offshore financial dealings implicating world leaders and celebrities, has prompted several countries to open new investigations. FIFA, however, is still recovering from the 2015 arrests of leading officials, as well as the clouds still hanging over the awarding of the 2018 World Cup to Russia and the 2022 World Cup to Qatar.
ss/bw (AP, AFP)