In a special discussion in Germany's parliament, the Bundestag, MPs underscored the country's commitment to remembering the Holocaust and the other crimes of Germany's Nazi past. The session was called by the Greens after increasing agitation from within the far-right populist Alternative for Germany (AfD) party to end Germany's culture of remembrance.
Members of Germany's other political parties excoriated the AfD for insulting the memory of history's victims and using racist terms and ideas.
"You from AfD employ Nazi vocabulary on a daily basis and try to divide our society," said Green MP Konstantin von Notz. "These statements express contempt for humanity and are incompatible with the values of this house. You are growing more radical by the minute. You are in the tradition of the worst sort of people who brought death and shame upon this country."
AfD MPs tried to interrupt Notz's brief speech with catcalls and insults and were officially called to order. Speaking for the conservative CDU/CSU, Marian Wendt didn't mince words either in condemning the far-right populists.
Read more: Controversy over far-right AfD member joining former concentration camp board
"Democracy is impossible without a culture of remembrance because responsibility grows from memory," Wendt said. "The AfD treads upon the memory of the victims of the Holocaust. That's the lowest of the low. You should be ashamed of yourself."
Members of the Social Democrats, the center-right Free Democratic Party and the Left Party echoed those sentiments. The unenviable task of responding fell to AfD MP Marc Jongen.
"It was obvious that criticism of extremist incitement would turn into incitement against the AfD," Jongen said. "We are fighting against the elimination of the West. Sometimes in the heat of battle, individual voices have gone too far and strayed into the red area of distortion. We need to remember the crimes of the past but we shouldn't have a cult of guilt."
A pattern of increasing radicalism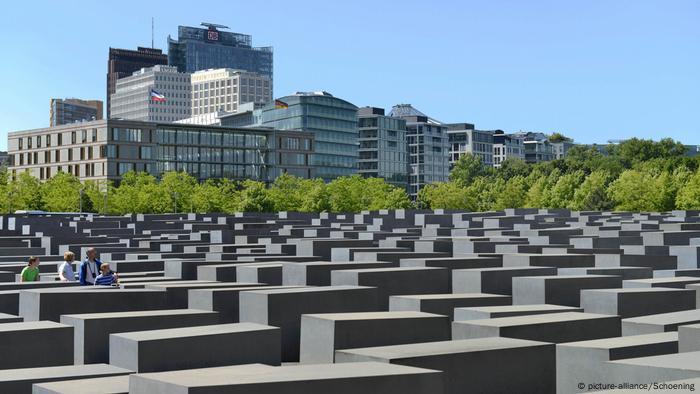 Some AfD politicians see Berlin's Holocaust Memorial as part of a 'cult of guilt'
The open session was sparked by a growing number of incidents in which AfD politicians, particularly on the local level, have attacked Germany's culture of remembrance and have flirted with racist and Nazi vocabulary.
In early January, the AfD leader in the eastern state of Saxony, Björn Höcke, derogatorily referred to the Holocaust memorial in Berlin as a "monument of shame." That and other statements by Höcke led moderates to try to ban him from the party — without success.
Saxony-Anhalt AfD head Andre Poggenburg has repeatedly used Nazi jargon and last week referred to Turks living in Germany as "caraway seed dealers and camel drivers." An official complaint against him for "incitement to violence" has been filed with the police.
And last week, an AfD member of the regional parliament of Baden-Württemberg, Wolfgang Gedeon, called upon a local mayor to ban the laying of a so-called Stolperstein, or "stumbling stone," memorializing an individual victim killed by the Nazis. In a statement on his website, Gedeon dismissed Germany's culture of remembrance as a "dictatorship of memory." Late last year, 12 of the stones were stolen from a Berlin street in what police regard as an example of right-wing extremism.
'Anti-Semitic, right-wing extremist politics'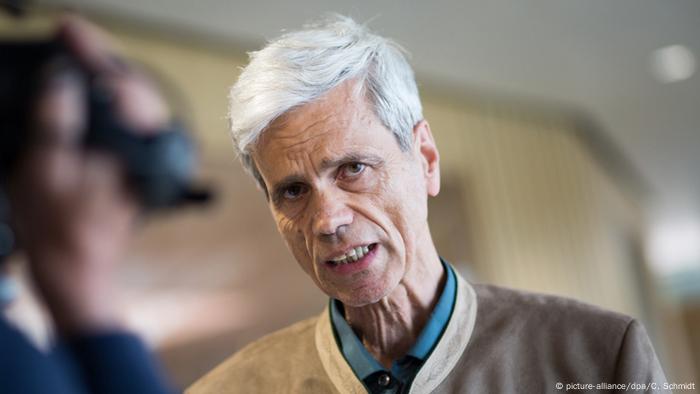 Gedeon is the latest AfD politician to attack remembrance culture and initiatives
For scholar Hajo Funke, one of Germany's leading experts on anti-Semitism and right-wing radicalism, Gedeon's proposal was but the latest in a series of increasingly extremist statements by AfD members. He says they amount to an attack on the heart of postwar German democracy.
"Wolfgang Gedeon is the most radical political anti-Semite we have in Germany," Funke told Deutsche Welle. "We're talking about partly anti-Semitic, radical right-wing politics that seek to destroy a core element of our postwar political culture: remembering the crimes of National Socialism."
Read more: What you need to know about Germany's far-right AfD party
Jewish groups have followed with concern the increasing expressions of hostility toward remembering the past.
"The attacks show that more and more people think they can now say out loud what they previously only thought for themselves," the vice president of the International Auschwitz Committee, Christoph Heubner, told DW. "The right-wing populism represented in local parliaments and the Bundestag is behind this. Ennobled by (their success in a) democracy, people now think they can attack, discredit and ridicule sites of remembrance."
Stumbling stones continue despite AfD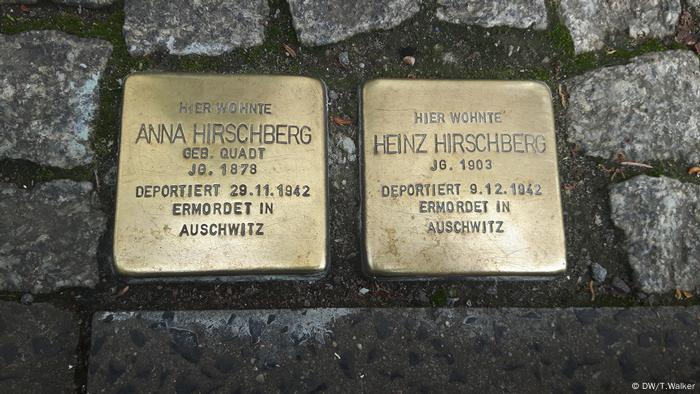 Stumbling stones are laid in memory of Nazi victims like Anna and Heinz Hirschberg, who were murdered in Auschwitz
The latest attack on the stumbling stones has caused particular outrage because of the special nature of the project. Since 1993, German artist Gunter Demnig has been laying small brass cobblestones with the names, dates of birth and dates of death of people killed under the Nazi dictatorship on sidewalks in front of the houses where they once lived.
As of April 2017, 61,000 stumbling stones had been installed at more than 1,100 locations throughout Europe. The project keeps history alive in two senses. The stones remind people in their everyday lives and routines about the extent of Nazi genocide. And because private citizens, in particular school pupils, research the histories of the victims and play an active role in laying the stones, the project encourages people to learn more about the past.
Demnig is defiant about the right-wing populist attacks on his project in particular and the culture of remembrance in general. He says his initiative has more momentum than ever before.
"I always thought that interest would diminish, but it's increasing," Demnig told DW. "Attacks from the AfD were only to be expected, but I know that (the project) will continue."
Demnig was invited to Berlin for Friday's parliamentary debate but chose not to attend. Instead, he remained in the southern part of the country, where he was laying further stumbling stones. They are part of a lifelong effort to prevent people from forgetting the millions of people butchered in the name of German nationalism and illusions of racial superiority.