Australian Prime Minister Malcom Turnbull told Parliament on Thursday that Australia had become the hundred-and-fortieth country to ratify the agreement which was decided upon at the UN climate meeting in Paris last December. In April, the accord was signed by 196 nations in New York.
Under the terms of the agreement, the countries have committed to working towards limiting global warming to 2 degrees Celsius (3.6 degrees Fahrenheit) and setting five-yearly targets for reducing emissions.
"Ratification of the agreement confirms Australia's ambitious and responsible target to reduce emissions by 26 to 28 percent below 2005 levels by 2030," Prime Minister Malcolm Turnbull said in a joint statement with the two ministers.
With its relatively small population of 24 million and continued heavy use of coal-based energy, Australia is considered one of the world's worst per capita greenhouse gas polluters.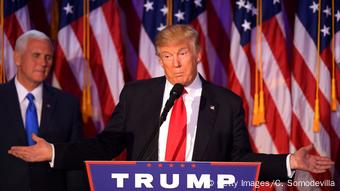 US president-elect Donald Trump has denied climate change
UN: Trump cannot undo deal
The news on Thursday came amid fears that US president-elect Donald Trump could soon follow through on his pledge to "cancel" the landmark pact.
The US is among the 140 countries to have already ratified the agreement which account for 70 percent of the world's emissions and three-quarters of global GDP.
Prior to his election on Wednesday, Trump called global warming a "hoax," raising concerns among environmentalists and climate scientists that the US would once again pull out of an international climate deal.
The US currently produces 13 percent of global emissions, making it the world's second-largest greenhouse gas polluter after China.
France's environment minister and outgoing head of the UN climate forum Segolene Royal said on Wednesday, however, that Trump "cannot prevent the implementation" of the pact.
"He cannot - contrary to his assertions - undo the Paris Agreement," she told French radio station RTL.
UN climate change talks are currently underway in Morocco where the Paris agreement is due to be discussed next week.
ksb/kms (AFP, AP)