Four weeks after winning an unexpected majority in North Rhine-Westphalia, German Chancellor Angela Merkel's Christian Democrats (CDU) and the pro-business Free Democrats (FDP) have struck a coalition deal to govern Germany's most populous state.
"The coalition agreement stands," said CDU regional chairman Armin Laschet (pictured above left) after the seventh round of negotiations in just three weeks. The agreement is set to be presented on Friday.
Read: What you need to know about Germany's political parties
Chief among a range of agreements was a "zero tolerance" approach to security. Plans include an expansion of video surveillance and the police force.
"We still have some work to do, but the main substantive issues have been settled," said FDP leader Christian Lindner (pictured right).
Between them, the two parties have 100 of the 199 seats available in the state parliament, the Landtag.
Laschet will seek election as state premier on June 27 in the Landtag, as a successor to Hannelore Kraft of the center-left Social Democrats (SPD).
Read: Race for the Bundestag 2017. How does the German general election work?
Three-way deal in Schleswig Holstein
In Schleswig-Holstein, the country's northernmost state, the CDU and FDP are heading into government with the Greens.
"We have been holding tough talks," CDU regional leader Daniel Günther said after the conclusion of the talks, although the negotiations had been undertaken "in a very good and harmonious atmosphere."
The Green Party's chief negotiator, Monika Heinold, said the agreement had what she called "Green handwriting." FDP leader Heiner Garg meanwhile said the parties had succeeded in outlining a "future vision for Schleswig-Holstein." A spokesman for the FDP confirmed that an agreement had been reached, but gave no details.
Such a coalition has been tried only once before at the state level and never in a national government.
As in North Rhine-Westphalia, the CDU ousted a previous government that was led by the SPD and included the Greens.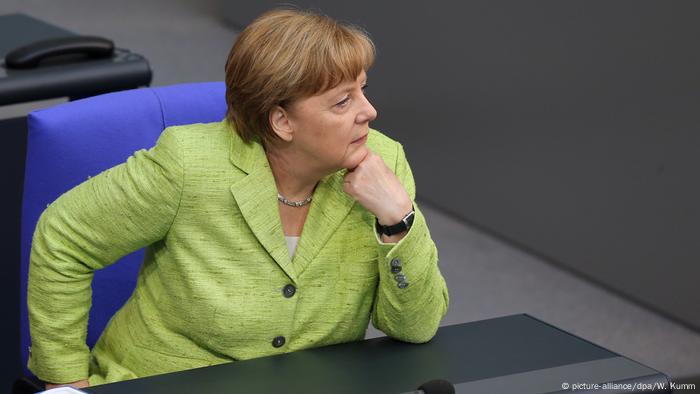 The coalition deals could be an option after September elections
Merkel - seeking a fourth term in office - has ruled in coalition since 2013 with theSocial Democrats on a national level. The Christian Democrats and Free Democrats governed Germany together from 2009 to 2013.
Polls currently give Merkel's conservatives a double-digit national lead ahead of the September election, with challenger Martin Schulz's SPD sagging following a surge earlier this year.
jbh/rt (Reuters, AP)